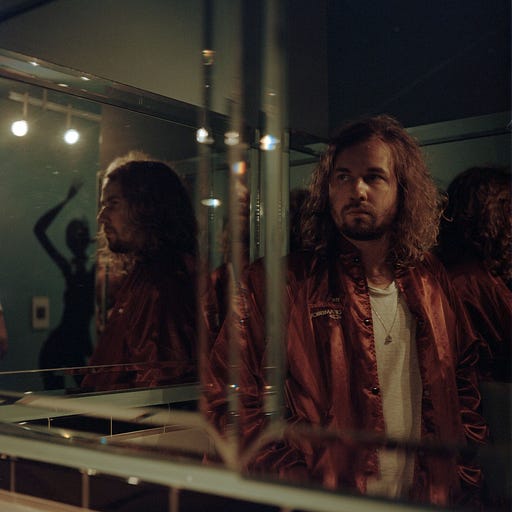 May 18 • 2M
Land Of Jet Lag
and more.
Hello from the land of Jet Lag. It is 5:30 AM here in Madrid where the band and I are stationed for the week while we rehearse ahead of our first tour for the This Is A Photograph album cycle. This is my first time back overseas since 2020, where I somehow pulled off both a full European and Australian run before the lock down. My jet lag reflexes aren't what they used to be but I'm slowly getting them back. I had forgotten to embrace the delirium, not turn my back to it. One must get up and move around and turn on a light. Tidy the room, stretch or call a friend. Or of course, write on their Substack…
Leading up to this trip I had a very eventful release week for my new album. I was in New York where I had a photo show of photographs taken while writing the new album, interviews, photoshoots, two stripped down performances, a radio session and a film premier for Montana Story - the film that I scored last year. Very exciting times all blurring together in an amalgamation of friends, bars, theatre's, record stores and hotel rooms.
Releasing an album can be very emotional, especially with this album in particular. I wrote a release day post on my Instagram which I have posted below that covers these feelings. In the wake of my release day I've been overwhelmed by all of the very kind messages coming in from all different angles. It is all very flattering, and I am so grateful and am now very pleased to be out here, about to do the thing, and bringing the songs to life, night after night, jet lag and all.
Above is some audio that I captured today of the white noise of children at recess coming from across the street from our practice space in central Madrid. I found it very peaceful as I walked the block with my recorder, thinking of Fionna Apples song Werewolf where she uses a similar sample. Theres some serenity in the chaos.
Thats all for now, xoxo km, Madrid.
---
---
RELEASE DAY POST: It is actually a bit difficult for me to let this one go. Over the past two years, This Is A Photograph, has been my lighthouse - my own little world that I've been taking comfort in and today I'm opening the doors to that world, or rather, giving it away. 
Never have I lived inside of or explored any of my songs as much as I have here and though the past two years was a terrifying time, I am grateful that I'll be able to look back fondly at my time capturing these songs. I wrote primarily out of the Peabody Hotel in downtown Memphis, my shed in Kansas, and on various solo road trips across America. A lot of time spent alone, though not lonely, but instead in the company of these songs or Katie and a few friends as I slowly mined away, trying to meet my creative spirit somewhere halfway.
I will also look back with fond memories on my time recording with Sam Cohen in both his upstate, NY studio Slow Fawn and then later at the Sam Phillips Recording Co. in Memphis. Endless gratitude to all the incredible musicians, engineers, photographers and designers that lent their talents to this record in some way shape or form - you know who you are and I couldn't have done it without you! This goes for my whole team and label as well who I'm so lucky to have helping every step of the way.
If you wanna hear me talk more in depth about the record there's some pretty thoughtful interviews out there and coming up that are easy to find that I enjoyed quite a bit and thank you to the writers / podcast hosts / DJs for taking the time and interest.
BUT for now, I'll go ahead and shut up and just let the record speak for itself as no one can tell the story better than it can. I believe in these songs and I hope they live a long life somewhere inside your heart or in a corner of your psyche and can provide some warmth. I can't wait to bring them into the third dimension, at long last, on stages in theaters and barrooms alike, all around the world, very soon. I'll see you all out there...
But before I go, and it's probably somewhat obvious - but I was exploring the idea of what a "record" is while writing this album. Seems to me nothing more really than a documentation of a time and place that exists somewhere in the past as it stretches out a bygone present moment. In this specific document on mine I aimed to depict what it means to be alive and chasing a dream with your limited time here on earth. I wanted these depictions to be vivid enough to hold, like an old photo.
And so on that note
This Is A Photograph! 
Love,
Kevin 
(photo by johnnhy eastlund)